Zwinger vom Kirschental History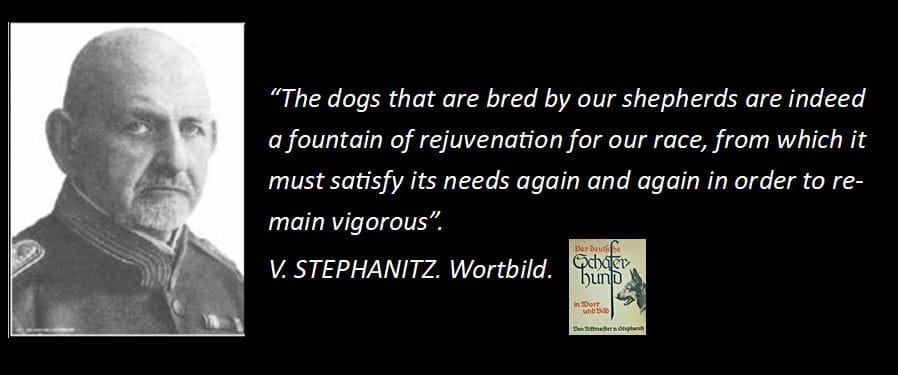 The Kirschental History Page is no longer available. Due to the huge contribution of excellence made by Karl Fueller and family, for the German Shepherd Dog,
I am reposting some content of the original. The following info is from Karl Fueller, which I had the honor of translating for their past history page.
All content property of Marion Fueller


On September 12, 1951, the "Zwinger vom Kirschental" was officially registered in the Zuchtbuch of the Verein Deutscher Schaeferhunde, under the number 70655. WE did not even notice that September 2001, was our 50th Anniversary!
The kennel name "Kirschental" has its origin from the characteristics of the area. Stettbach is located in a small valley, that has an abundance of cherry trees. The Sports Club of our town is called "Kirschentaler Sportsfreunde", and the main street is also called "Kirschental".

I have been a member of the Verein Deutscher Schaeferhunde since April 1, 1951. In 1948, I purchased my first German Shepherd Dog with Pedigree, the male "Arko vom Haus Petzenstein". In 1950, I participated in several Herding events with this dog, at Schweinheim and Dikelsbuehl.


In 1955, I bred my first litter, with "Dori aus der Wanderschaeferei", the pillar of my lines, to "Zambo Schaeferblut". Dori is pictured here herding.

Out of this litter, I kept "Alma vom Kirschental", an outstanding herding dog. I participated successfully at several Herding trials with this dog. Eventually, "Alma" was sold to Charles Kaman, of Connecticut, US, as top brood bitch for his blind dog breeding program, and his now world famous Blind Dog School "Fidelco" .



Out of my "C" litter, I presented my friend, Siegfried Jaeger, with the female, "Centi vom Kirschental". Later, I took back from "Centi" , the female "Bora Altenbachtal", a "Valet vom Busecker Schloss" daughter. Out of "Bora Altenbachtal", I bred my first two VA dogs: "Senta vom Kirschental (VA2 1967) sire "Barry Riedgold"



and "Perle vom Kirschental (VA3 same year).



The brother "Pirol" placed V1 HZS.



I then sold "Bora" to Joseph Roth, of Nuedlingen, where her daughter, "Poldi Eiringsburg" produced another VA dog, "Wacker Eiringburg" (VA 1973 & 1975). Furthermore, I then bought back out of "Centi vom Kirschental", the female "Ilse Altenbachtal", a "Mutz Pelztierfarm" daughter. Out of "Ilse", I later bred "Xanta vom Kirschental" (VA5 1974) out of "Hero vom Lauerhof".

Another pillar of my lines was "Blanka Mummelsee", that I purchased fom my herding colleague, Alfons Spitzmueller.
"Blanka" comes from pure HGH lines. Out of her daughter " Vefa vom Kirschental" (Bernd v. Lierberg) and their daughter "Fenga vom Kirschental" (Racker v Itztal), came a long line of outstanding working dogs.

The best known was probably "Uwe vom Kirschental".


From the breeding of "Blanka" with my male "Dolf vom Altenbachtal", I produced "Zita vom Kirschental".

"Zita" was bred to "Eros vom Busecker Schloss". This breeding produced "Isa vom Kirschental". "Isa" and "Asslan von Klaemmle" were the parents of the outstanding "N-litter vom Kirschental": "Nanni (VA1 76-77), Negus, Narro, Natze and Nimi". "Nimi" then produced "VA Xitta vom Kirschental" (VA3 1981), whose sire was "Lasso di Val Sol".

"Xitta" was a pure working dog with the sheep, when I presented her for the first time at the HZS, where she achieved V4 in the GHKL. At the evaluation, quote the Bundeszuchtwart, Hermman Martin: " I would have placed this dog VA, had she also had a SchH title, not just the HGH." Thereupon, I had Edzard Mueller train "Xitta" through SchH3 IPO3 FH. The following year, "Xitta" achieved VA3. As much time was spent for competitions and shows, I was not able to breed "Xitta" as much as I would have liked to. She did, however, produce outstanding progeny in each of her litters. Her first litter was out of "Argus von Aducht", which produced the HGH Sieger "Ux vom Kirschental".

Her most successful breeding was to "Uran vom Wildsteiger Land", producing the Worldsieger "Eiko vom Kirschental" (VA 1986-89).

This breeding was repeated twice, producing another successful litter with 5 males (Vagus, Valand, Vasall, Vido and Vopo) and 5 females (Valli, Vilma and Viva). The whole litter, some also abroad (USA, Sweden and Australia) were used for breeding with much success.




VA (I) Vopo vom Kirschental



The third breeding produced only three females, from which "Killa vom Kirschental" is the mother of one of our current brood bitches, "Suse vom Kirschental". Out of the breeding to "Quai von der Boxhochburg" and "Xitta", the female "Urle vom Kirschental" was produced. "Urle" was bred to "Uran vom Wildsteiger Land", which produced "Ansa vom Kirschental", who was also a great producer. Bred to "Ziggo von der Wienerau", they produced "Wachtel vom Kirschental", who is the mother of the beautiful male "Zilko vom Kirschental", who achieved V83 at the HZS in 1999.

During all my years of breeding, I have never lost sight of my breeding goals. "Focus on workability, because it serves the breed", of course one could also say, "Focus on the breed, because it serves "workability". A very important criteria in my breeding goals, has always been workability. Only with several exceptions, all my dogs have been worked and titled in HGH. As a professional shepherd, I do not have the time to go for walks with my dogs, but instead my dogs have their exercise working daily with the sheep. A German Shepherd Dog that has anatomical errors, overangulation, incorrect reach, or small long paws, is not capable of working all day long in the field. Herding dogs must also be extremely healthy. Having to work from early morning to late at night, summer or winter, they cannot be sensative. Obviously, healthy hips and elbows are a necessity.

Every year, the Verein Deutscher Schaeferhunde (SV) offers, along with the BSZS, a competition for professional shepherds, called the "Bundesleistungshueten." The other competition is the Sueddeutsches Hauptleistungshueten. It is here that the work with sheep is shown and evaluated. The winner of this competion receives the "Goldene Schauffel" (Golden Shovel), which I have achieved 10 times with the following dogs:











1. 1956 Dori aus der Wanderschaeferei - SV 2. 1962 Gero vom Kirschental - SV













3. 1968 Cita vom Kirschental - SV 4. 1975 Fenga vom Kirschental - SH

5. 1977 Ursa vom Kirschental - SH 6. 1978 Ursa vom Kirschental - SV















7. 1983 Hanny vom Kirschental - SV 8. 1986 Winnie vom Kirschental - SV



9. 1990 Amie vom Kirschental - SV 10. 1994 Xiewa vom Kirschental -SV
Designed by alpenhof@alpenhofgsd.ca © Copyright 2023