Please take to heart the words of Max von Stephanitz!


"Because, unfortunately, he was not trained in his youth, he was, if left to his own devices, the worst of mischief-makers, the wildest of fighters, and an intractable nuisance. His faults were the faults of his education, not of his nature. He suffered from underutilization of his great need for activity, for if someone worked with him, he was blissfully happy and the most obedient of dogs".....Max von Stephanitz



"The German Shepherd Dog is a WORKING dog"


Socialization is an absolute necessity, and starts on day ONE. We only place our dogs in homes that offer top quality living conditions. A German Shepherd Dog is a working breed, and must be provided with family contact. The best genetic predispositions are useless, if the pups are not sufficiently socialized. Contact with people, animals and environmental situations are an absolute necessity. ALL training should be motivational and Schutzhund is highly recommended. Schutzhund is very misunderstood, as it teaches the dog to control it's bite, NOT to bite. The minimum requirements are Puppy Classes, Obedience Classes to Advanced Level, which also provide an excellent source of socialization. There are many other training options available for this amazing Breed. But always remember that Max also said:



"A GSD's first job is to be a "Companion to MAN!"








Sorry, no Puppies Available.
Please see our LINKS or AVAILABLE pages.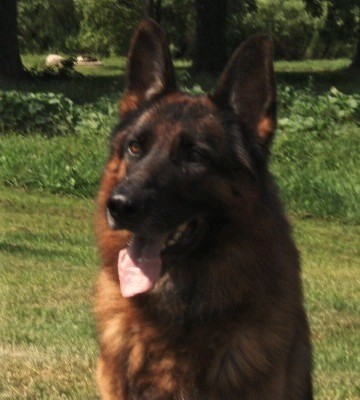 Our pups are CKC Registered, AKC, USA/SV registerable, tattooed, first shots, and dewormed.
Sire and Dam's Portfolios, vaccination record, and guarantee* are provided.
Temperament, health, workability and correct structure is what we
breed for, using only the finest European Bloodlines.
Males Titled and Breed Surveyed *KKL1*
*****Recommended for Breeding*****

We present you with good
temperament, however, all puppies must be trained (motivationally only), to bring out
their excellent genes. As per "Max".

***NOTE***
For residents of the United States, that are USA members, USA/SV registration is an option!
Shipping throughout the US and Canada year round!

* Deposits are non-refundable. If a reserved pup becomes unavailable due to unforseen circumstances,
the reservation moves to the next available litter, or future litter of clients choice.



*Guarantee*
Diet and correct exercise are of utmost importance! The bones, joints, tendons and ligaments are still very soft! Until 6 months, feed a high quality Puppy Food, consisting of not higher than 30% protein, but no suppliments, unless recommended by your vet. Excessive protein, vitamins and minerals can also be harmful. A German Shepherd Dog grows very fast in a relatively short time. During this time, the puppy should develop muscles through short walks and play, but is not to be overexerted. Please do not allow your puppy to run beside the bicycle until at least 10 months of age.



Last updated:
2023




Designed by alpenhof@alpenhofgsd.ca © Copyright 2023